Midwest Camera Car has partnered with Filmotechnic to offer our clients the Russian Arm 5 system, which is the combination of a gyro-stabilized 3-axis remote camera head (Flight Head 5) that is attached to the end of a gyro-stabilized remote-controlled crane arm, which is mounted to the roof of our AMG ML 55 Mercedes Benz. All camera movements can be safely operated via remote consoles from within our chase car vehicle. This ultimate crane arm can be used in pursuit of moving subjects, from just about every angle and speed you want, in all weather conditions.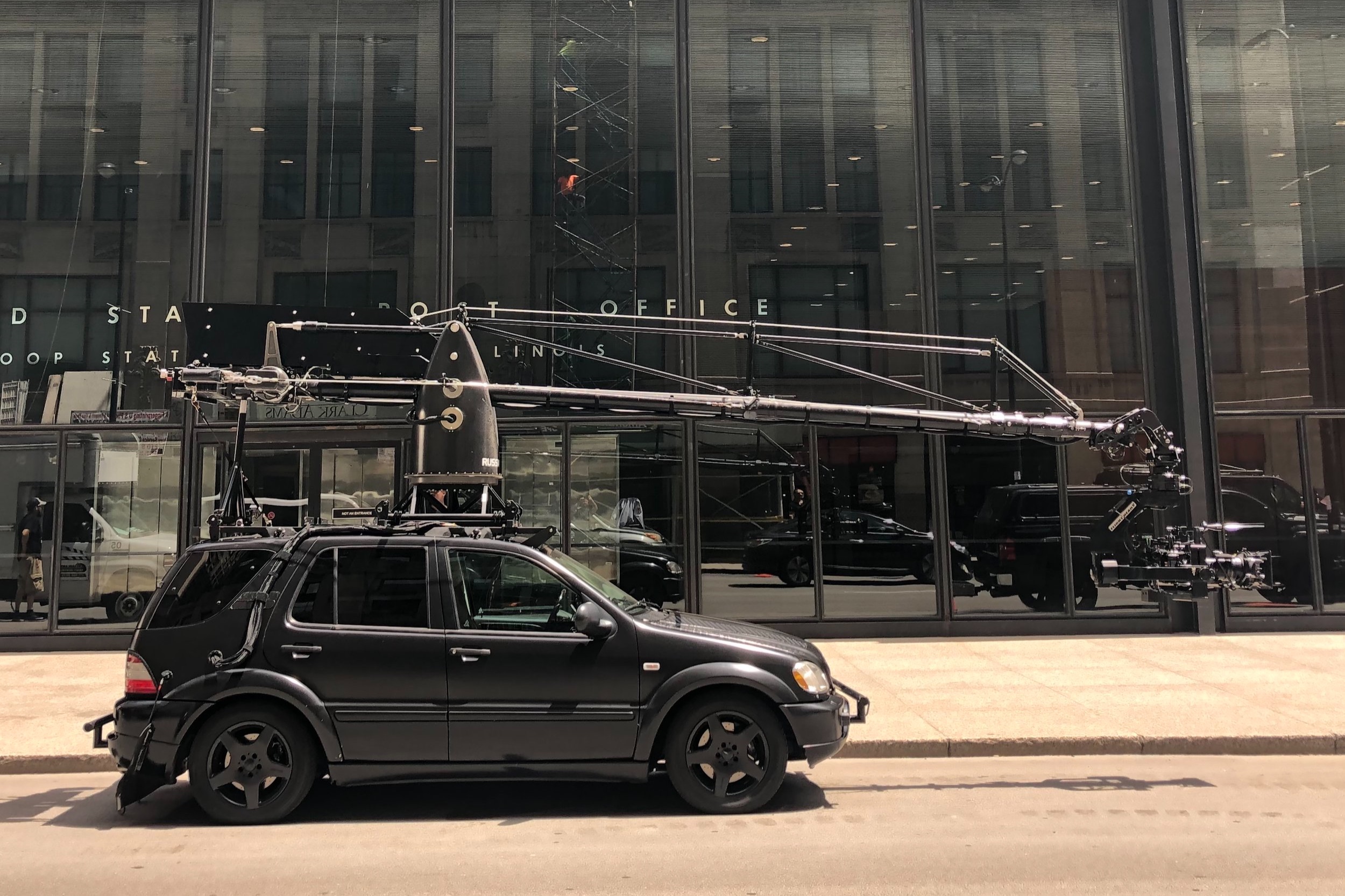 The ML 55
Performance: 5.5L engine powering the 5-speed tiptronic AWD drive-train. The ML is built on a stiff truck frame, so it can take the stress and the punishment it receives. It's progressive 4-wheel independent air-ride suspension straightens out the curves and smooths out the bumps.

Stability: The ML has a low center of gravity and is well balanced. Ideal for the 700lbs riding on the roof.

Short Wheel Base: Allows for the Russian Arm to rotate 360° with plenty of front and back clearance on a low angle shot.

Safety: Brembo brakes & oversized rotors, ABS, and traction control make for faster, safer stopping on wet-down roads.

Roomy Interior: Six people, batteries, chargers, video playback & monitors, path-bays, com-system, Russian Arm & Flighhead controls, second remote head controls, all fit comfortably.
Pan & Tilt axis are gyro-stabilized.

360° panning capability around the ML55 or picture vehicle.

Minimum safe operating camera height off the road surface is 12".

Reach from the centre post is 14'.

Fulcrum sits 8' off the ground.

Maximum lens height is 14', armed 90° to either side of the Chase Car's chassis.

With an 18 mm lens a full frame top shot can be achieved.

Stabilization tail fin allows the Russian Arm to pan side to side, back and forth at high speeds.

Operating Tilt angle ±45°.

Speed 6 sec / 360°.

Max camera payload capacity 25 kg.

Weight 300 kg (RA, FH, Camera, Counter Weights).

Set-up Time on ML55 Chase Car: 1.15 hours (including camera).

The RA is fully controlled from within a car and is capable of operating at speeds up to 180 km/hr.
3 or 4 Axis Gyro-Stabilized.

Back-pan compensation.

RF Wireless capability.

Digital Auto Horizon always keeps camera level even in hi G turns.

Auto Horizon can be turned off for greater control of Roll Axis.

Pan axis travels through 360° with back-pan compensation.

Roll axis travels through 270° with auto horizon. NOTE: NO FULL 360° ROTATIONON ROLL AXIS

Tilt Axis travels through 200°.

Pan Speed, Roll Speed, Tilt Speed 160 °/ sec.

Preston FIZ plugs into head console to give Zoom control on the left joy stick.

Payload capacity up to 40 kg.

Weight: 24 kg.

Temperature range from -40 °C up to +40 °С.

Mounts to standard Mitchell base.

Auto Tilt Horizon

Pan and Tilt holds
HD Record/Playback
The HD camera image is recorded/played back using the PIX 240i, which records Quicktime files in either Apple ProRes or Avid DNxHD video formats. Files recorded in these intra-frame codecs are ready-for-editing directly from the recorder. For Color-critical applications, recording to Apple ProRes 4444 provides uncompressed alpha-channel transparency for superb chroma keying and grading performance.
I/O
The video input on the PIX 240i has extensive compatibility with a wide range of cameras. Its BNC input accepts 12-bit 3G SDI (4:4:4 RGB or YCbCr), HD-SDI, SDI. Its HDMI input accepts high-definition & standard-definition video. With its 3G-SDI 4:4:4 input, recording to ProRes 4444 offers recordings that are perceptually indistinguishable from the original source material.
Monitors
3 x 10" iKAN HD monitors

1 x 17" Panasonic "Director's Monitor"

1 x 7" PIX 240i

Each monitor has dual inputs